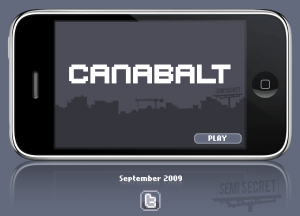 Semi Secret Software had a major hit on their hands with Wurdle [App Store], a Bookworm-like word searching game. It was released early in the life of the App Store and saw a positive reception both from review sites online and actual newspapers. Wurdle went on to sell close to a quarter of a million copies, and has since been Semi Secret Software's only entry on the App Store.
Following Wurdle, Semi Secret Software went back to their flash game development roots and produced Canabalt, a fast-paced game of running for your life and jumping from building to building. I could go on explaining the intricacies of Canabalt, but instead you should just play the full-featured flash game freely playable online. (The original flash version is also available on AdamAtomic.com.)
Here is the world premiere iPhone gameplay video I shot in the halls of the Austin Convention Center:

[ Full HD version | Low Bandwidth version ]
Fast load times combined with short (yet exciting) game sessions really make for an attractive game to play on a mobile device. Semi Secret Software plans on submitting Canabalt to Apple soon.