It's hard to describe the Madden series of games as a franchise anymore, they've been around so long it seems that a more appropriate way to describe the games would be the "Madden dynasty." The first Madden game appeared on the Apple II all the way back in 1989, it wasn't until Madden '94 that the real NFL teams were included, and sports gamers would have to wait another year until the real players were added. When you look back at the 20 years these games have been around, constantly improving each year, it's no surprise that Madden NFL 10 [App Store] is as good as it is.
Madden NFL 10 was one of the titles we previewed at PAX and spent some time with EA who highlighted the many features from the game.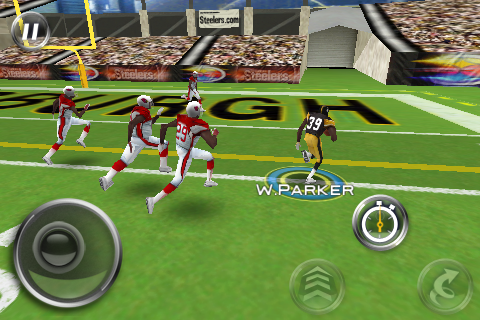 First and foremost, Madden NFL 10 includes all of the NFL players, teams, and stadiums. Around 2000 players are in the game in addition to 200 free agents, and all of these players can be freely traded between teams. Whether you want to follow the real NFL trades and move players around based on the official rosters, or just turn your favorite team in to a dream team of the best players, EA says Madden NFL 10's team management can handle it.
Madden NFL 10 was specifically designed by EA's mobile team, which means it plays nicely as an iPhone game. If you get a phone call, need to answer a text message, or quit the game for some other reason, Madden NFL 10 saves the play you were on and reloads right back at the start of the play without any fumbling around with menus, intros, etc. EA also says they have really put a lot of emphasis on play time. Every cut scene, non-essential player animation, or instant replay can be skipped simply by tapping the screen. While there is a lot of fluff in the game, it's all quickly and easily skipped.
While behaving as a good iPhone app is nice, there were two other feature that I thought really stood out: Action Control Time and Hot Routes.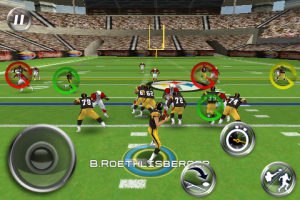 Madden's "Action Control Time" seems to work so well it wouldn't surprise me if we see a lot more sports games imitating it:. When you're playing regularly, the game runs at normal speed, and while on offense you have buttons to sprint and spin. With Action Control Time enabled, however, the game slows down, and additional controls appear allowing you to do things like juking to the left or to the right. The ability to slow things down allows for extremely precise player movements and changes the game from being action oriented, to a more tactical experience as you're able to avoid tackles exactly when you need to, as well as make for the clearest path you can see to the end zone instead of just catching the ball, running forward, and mashing spin as many times as you can.
Playing defense in Action Control Time works just as well, and with it enabled you can jump for balls, dive tackle, or even go in for a big hit– A move that has a high risk of missing, but offers a higher chance of the opposing player fumbling. Again, slowing things down allows for a much more precise defensive attack instead of just switching to whatever player is closest to the one with the ball and mashing tackle.
The other cool feature of Madden NFL 10 is "Hot Routes". Before the snap, you can press the Hot Routes button and redraw the path of any of your players with your finger on the screen, you can even make nonsensical zigzags and they will follow your every command. This takes the 300 included plays and lets you customize them any way you want.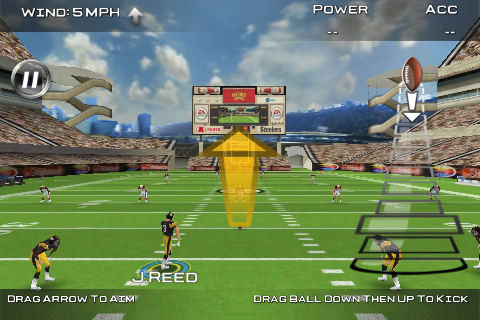 Passes are controled by tapping on icons appearing above your receivers heads that range from red to green depending on how open they are. When it's time to kick, the kicking controls work just like swinging in Tiger Woods PGA Tour [App Store]. A kicking interface appears on the right hand side of the screen, you drag your finger down to determine the power, then swipe back up to determine the accuracy of where you aimed. All of the player AI, detailed player attributes, and all the other inner workings are in place to allow you to do things like simulate games when playing in season mode instead of playing through each game yourself. And If you're a football statistics nerd, there are a stupid amount of different statistics being tracked with every play you make in Madden NFL 10.
My brief time with Madden NFL 10 was spent on an iPhone 3GS, though I was assured that they've developed the game to run well across the entire iPhone and iPod Touch family. Madden NFL 10 doesn't require 3.0, although you do need it if you want to access your music from inside the game.
Here's our hands on video with the game from PAX:
We'll have the opportunity to spend more time with the game now that it's been released, but it's overall a really impressive package that we expect football fans will love. EA has also announced that a soon to come update will support "multiplayer". Madden has been launched at $7.99 as a one day sale, and will go up to the full price of $9.99 on Thursday evening.
App Store Link: Madden NFL 10, $7.99 (for one day sale).