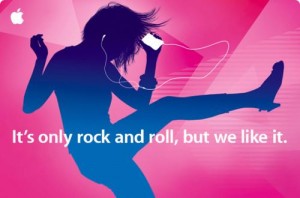 While there are a bunch of sites out there providing live coverage, here's what's happened so far at the Apple event that is relevant to iPhone gamers:
OS 3.1 is coming today, which will add genius functionality to the App Store. Genius for music can make some fairly intelligent suggestions on similar music to what you're listening to, so genius for apps should be able to hopefully provide some great game suggestions. Genius appears as its own tab in the App Store.
OS 3.1 will be free for iPhone owners and iPod Touch users who have already upgraded to 3.0
iPhone/iPod syncing has been greatly improved, not only with enhanced controls of what music and media syncs, but also what apps sync and what order they appear on your home screens.
iTunes 9 features complete app organization. Deleting apps from the device within iTunes is as simple as clicking a little black X in the corner, just like if you were deleting them from your iPhone
Entire pages of apps can be arranged right within iTunes, the whole system looks extremely useful and should come as a huge relief to those of you who have massive app libraries.
iTunes "home sharing" has been added. Home sharing allows you to share music, movies, TV shows, audiobooks and applications across your home network. Buy an app once and sync it across 5 different computers/iPhones.
All of these new iTunes features are coming today with iTunes 9.
There have been 22 million iPods sold to date and growing, the current iPod market share is 73.8%
Apple has sold 20 million iPod Touches and 30 million iPhones.

Photo courtesy of Engadget
"And people are starting to see what a great gaming device this is. When you think about the companies that came before us… when you played those other systems, they seemed so cool, but now when you look at them, they don't stack up against the iPod touch." -Phil Schiller
There are currently 21,178 entertainment titles for the iPhone versus the 607 available for the Sony PSP and 3,680 for the Nintendo DS.
Ben Mattes, Asassin's Creed producer discusses Assassin's Creed 2, said to offer visceral brutal hand to hand combat. Will be available this holiday season. The game even allows you to use the iPhone's camera to put your own photos on wated posters in the game.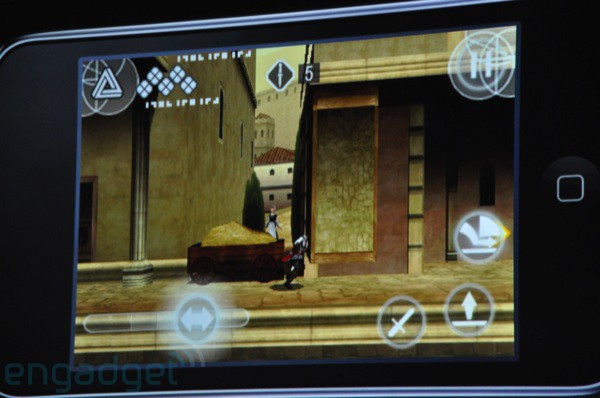 Photo courtesy of Engadget
Bart Decrem from Tapulous discusses a new game called Riddim Ribbon, where you race down a track to music. It sounds a little like Audiosurf.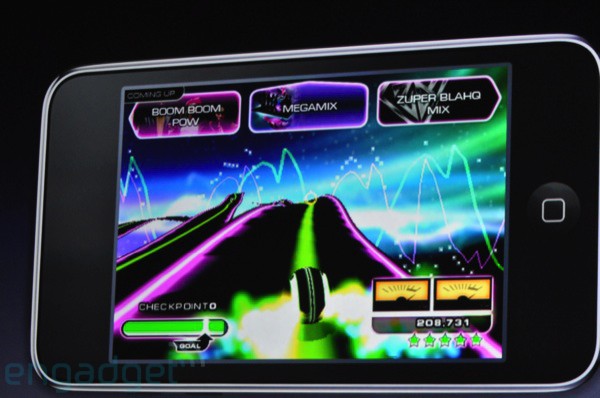 Photo courtesy of Engadget
Gameloft's Mark Hickey announced their upcoming FPS entitle Nova, which looks very Halo-Like. He also explains that of their 35 titles on the App Store, they've had almost 20 million downloads.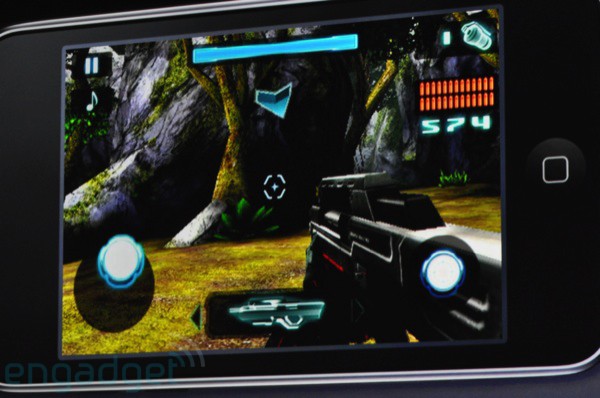 Photo courtesy of Engadget
And last of the new game announcements is Madden NFL 2010, which will be available today.

Photo courtesy of Engadget
Of course new iPods are coming today, iPod Touches are getting new prices and new capacities. 8GB at $199, 32GB at $299 and finally, 64GB at $399.
The new iPod Touch will also have OpenGL|ES version 2.0, presumably using the same graphics hardware of the iPhone 3GS.
The iPod Classic got bumped to 160GB, and the iPod Shuffle got a price drop to $59 for 2GB and $79 for 4GB.
One more thing…
Video cameras!
There is going to be a video camera built in to the back of every iPod Nano. No mention of the iPod Touch getting a video camera.
…And that's it!