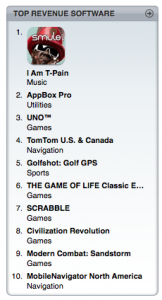 Apple is hosting their iPod Media event today. We will report on all the new products and changes they announce.
But one change has already started to appear… Apple seems to have listened to the complaints from developers and has finally created a top list based on Revenue, not just on Units sold. This should provide developers some reward for having a higher paid app that sells reasonably well.
The new list is live [iTunes Link] in the App Store. The list is still topped by I Am T-Pain but apps such as Uno ($4.99), TomTom U.S. & Canada ($99.99), and Golfshot : Golf GPS ($29.99) are in the Top 10 by Revenue.
We'll provide more updates as they come in.