Here are a couple of recently released games that might appeal to a specific audience niche:
RC Heli
RC Helicoptor fans may want to consider RC Heli which just came out yesterday. Multi-touch controls to control your helicopter around a house. The game offers free fly mode, race mode, and 3 camera views. Early reactions in our forums.
App Store Link: RC Heli, $0.99
HIARCS Chess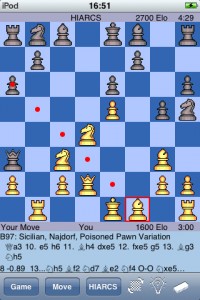 Described to be the strongest chess program on Palm and Pocket PC devices, it's also said to be the only handheld chess program in the world which has won Grandmaster tournaments. Serious chess gamers looking for a challenge will certainly want to consider this option.
The game is also said to be suitable for beginners as well, and includes adjustable playing levels, hints, and more.
In our discussion thread there is some debate about the strongest chess application for the iPhone, and it seems the free Glaurung Chess [Free] is a solid option as well. One blogger is going through the trouble of pitting iPhone chess programs against each other. His first round between HIARCS vs Glaurung, gave HIARCS the advantage.
App Store Link: HIARCS, $9.99