Samurai: Way of the Warrior [$2.99] is simply one of the most original and entertaining iPhone hack-and-slash games to date.
The game has a storyline that is well incorporated throughout presented in comic book style cut scenes that honestly conveys a strong sense of adventure and bloodletting. You control the fate of Daisuke Shimada, the wandering samurai as he ventures through the countryside dealing with the villainous Lord Hattoro and his two henchmen Kumo and Orochi. Of course, they have a significant army to carry out their misdeeds, and let's just say that Daisuke doesn't take too kindly to village bullies.
Hack and slash is the name of the game, and you'll be doing plenty of that. Samurai has two game modes: Story and Dojo. Story mode consists of 7 chapters and variety of different enemies presented like a short novel or Japanese DVD. Dojo mode is a survival mode where Daisuke battles fellow hack and slashers in a ring for as long as possible.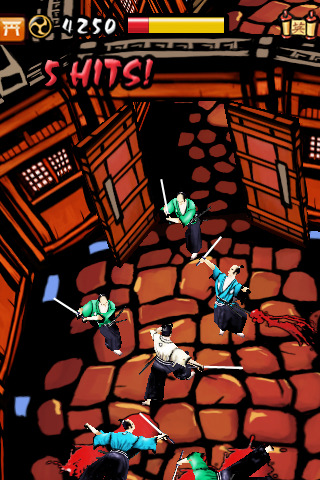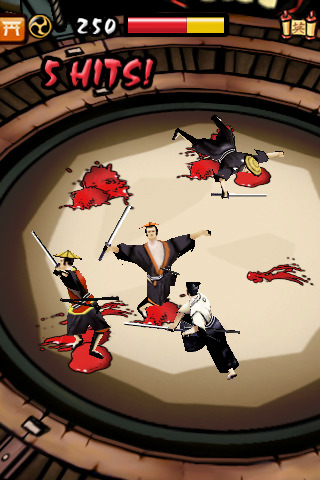 The art style is among the best you'll come across in a game of this nature. The 3D textures and graphics really pop as you explore the different environments with a definite Japanese feel. Combined with the melodic Japanese soundtrack, and this game exudes the charm of the Far East.
To move Daisuke, tap on a specific location on screen (Warpack Grunts-style), and he will move there with full 360 degree movement. The game also uses swipe controls to initiate specific sword maneuvers, and after playing it, I couldn't imagine this game without swipe controls. Through specific swipe motions, any one of 9 Samurai sword skills are initiated. The sword movements are quite different, inflict different levels of damage, and can be used in unison for combo attacks which inflict maximum damage. Proper swordplay does require some practice and the game becomes particularly challenging at Stage 3.
Controls have been a point of concern in the game for some, and are demonstrated in this gameplay video from AppBank:
Literally, enemies are sliced and diced into pieces, and if you're good enough, beheadings are in your future as well.
The gameplay starts off relatively easy as you hone your skills. Daisuke's healthbar is replenished as he defeats enemies and unlocks gates. Enemies become more skilled and more evasive as you progress through the chapters, and the ability to use combos will be essential to survival.
Samurai: Way of the Warrior has to be one of the surprises in the iTunes store. It's a terrifically well-designed, visually appealing game that I think will catch many off guard.
App Store Link: Samurai: Way of the Warrior, $2.99