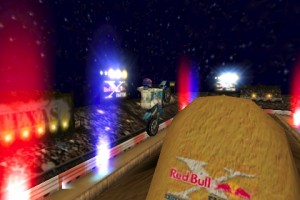 I-play released an official Red Bull X-Fighters freestyle motocross game into the App Store overnight. The $4.99 game offers motocross fans a nice new iPhone game to test out their tricks and skills.
The game is 3D rendered and offers 8 different locations with over 60 levels. Each level is a short track that requires you to perform certain tasks to advance. These goals can be either a certain number trick points or coming in under a specific time and you need to get at least a bronze in order to unlock further levels.
The game is controlled like many other physics games with left/right tilt controls (touch buttons also an option) to keep your bike in balance. Tilting left adds more pressure on your back tire and will speed you up, and you'll need to level out in order to land jumps properly. Your bike auto-accelerates but there is also an on screen brake button.
Red Bull X-Fighters also offers a number of in-air tricks that can be performed in order to boost your scores. New tricks are introduced with the early levels and are invoked by on screen gestures. Once you catch air, pressing on the screen slows the action down to allow you to draw your trick shape. All tricks you've learned are shown on screen so you don't have to memorize them all right off. Combine tricks in one jump and you get bonus points. Gesture recognition, however, was a bit spotty for me at times. Different outfits and bikes with differing capabilities are unlocked as you play.
Our gameplay video shows a couple of the tracks:
In our time with the game, the levels stay rather short with very specific goals per level. As you do progress, you do build up your repertoire of tricks and bikes. While the gameplay remains essentially the same throughout, there appears to be plenty of content and replay value in improving your score.
While I've never been a huge fan of the use of this sort of gesture mechanic for iPhone games, as it always feels a bit gimmicky, I suppose it does allow for a large number (20) of possible tricks. If that isn't an issue for you, Red Bull X-Fighters seems to offer a lot of fun and challenging gameplay for physics-game fans.
App Store Link: Red Bull X-Fighers, $4.99