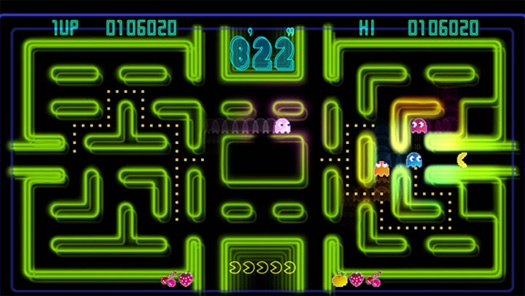 With Pac-Man Remix [link] fresh in the App Store, iPhone gamers in a love affair with that little yellow dot-chomper are busy getting their retro maze munch on.  But don't fill up too much, because a dose of Pac-Man goodness that should far exceed Remix will soon be making its way to the App Store.  G4tv has gotten word that Namco Bandai will be releasing the highly acclaimed Xbox Live Arcade title Pac-Man Championship Edition for the iPhone and iPod touch later this year.
What many have called the first "real" update to Pac-Man in 29 years, Pac-Man Championship Edition contains major differences from the 1980 original.  The Xbox Live version, aside from supporting on-line leaderboards and high-definition graphics, is a race against the clock in every game mode.  There are several different play lengths to choose from for each electric-looking maze, and the goal is simply to score as many points as possible in the relatively short time limit.  The more points you score, the faster the pace of the game.  Each maze is divided into two halves.  Eating all the dots in one half causes a bonus fruit to appear in the other.  Eating that fruit causes a new maze (that may differ in layout from the previous) to appear in the other half.  It's back and forth, back and forth.  And enormously fun.
We've got no information at present as to how the iPhone version will differ from the Xbox Live original, but will keep you updated as details come our way.  But, if it's anything like the Xbox Live version, Pac-Man Championship Edition for the iPhone is going to bring some serious addiction to the platform.
See a video of the Xbox Live version to get a feel for the game.