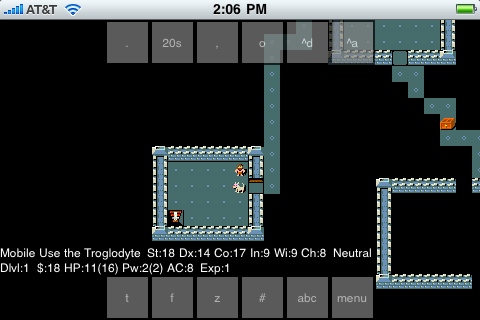 Last night, iPhone developer Dirk Zimmermann released iNetHack [App Store] for the iPhone, a port of NetHack 3.4.3, released in 2003.
For those unaware, the open source NetHack is one of the better known "roguelike" dungeon crawlers, which places the player, who assumes one of many available fantasy roles such as knight, barbarian, wizard, rogue, valkyrie, monk, and samurai, and his/her companion (usually a kitten, a puppy, or a pony) at the top level of a deep dungeon populated with all manner of creatures that go bump in the night.  The mission?  Retrieve the Amulet of Yendor which resides at the lowest level of the dungeon and bestows upon the successful adventurer the gift of immortality.  Along the way a number of sub-quests must be completed.  Few are up to the challenge….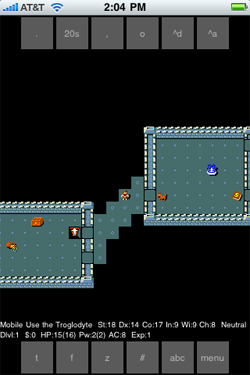 Being a roguelike, iNetHack has much in common with the similarly-inspired Rogue Touch [App Store], one of my favorite iPhone games.  But, while Rogue Touch is well-evolved, and feature-rich, iNetHack is rather rough around the edges right now.  Some gamers, myself included, have noted a bug that freezes the game when certain menus are accessed.  The developer indicates that he has addressed this bug in the development build, which will soon make its way to the App Store.  As well, there is presently no zoom feature to bring the action more clearly into view, which makes the game a little hard on the eyes at times.  Hopefully, a future update will enable this rather needed feature.
These various issues can perhaps be partially forgiven, given the fact that iNetHack is a free download.  NetHack is a notable release for the platform with a great many fans.  Salon called it "one of the finest gaming experiences the computing world has to offer."  Let's hope the author gives iNetHack the attention it deserves and raises it to "must have" App Store status.
App Store Link: iNetHack, Free