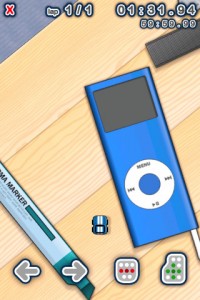 I got my hands on an early copy of Nano Rally [App Store] late last week and have since put a fair bit of time in to the game. If you're looking for a pint-sized racer to stoke the coals of Micro Machines nostalgia, look no further.
Nano Rally has players driving a tiny car around six different environments which range from a kitchen table scattered with produce, a desk littered with office supplies, and other miniature makeshift race tracks. Before each race, you're shown an overview of the track and given the opportunity to customize the performance of your car. Acceleration, top speed, braking power, and handling all can be tweaked to help get the best time on each track.
The game features both touch and tilt controls, and while I've found myself preferring touch controls, some players on our forums seemed to prefer tilt. The main thing that I thought took a little getting used to in the game is that when you steer your car, the track turns instead of your car. It's a little disorienting at first, but otherwise the gameplay is solid.
If I had to say something bad about Nano Rally it would be the lack of AI opponents, no multiplayer, and only one car to drive. But, at the same time, for a 99¢ game it's hard to expect much more than what's already included. Instead of racing against on-screen opponents, in championship mode you race against the clock to unlock additional tracks.
Unlocking new tracks can be difficult, although I've found that the key to getting great times is trial and error as you tweak how your car is tuned for each individual track. A few players on our forum have mentioned the high level of difficulty, but you can't really have every track in a game like this being a total cake walk or you could blow through the whole game in a half hour.
The developer is already working on the 1.1 update which will include racing lines, adjustable difficulty levels, and a fixed camera to rotate the car instead of the track when you steer as well as taking suggestions for 1.2 in our forums. For what it is, Nano Rally is a great little game, and the developer seems very involved in gathering community feedback to refine the game with updates.
App Store Link: Nano Rally, 99¢