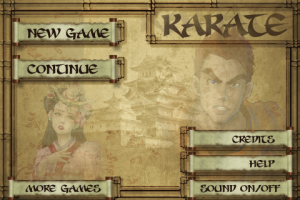 Alexandre Kral of Javaground recently gave us a heads up on an upcoming action/adventure game of theirs called KARATE. Javaground is the same company that brought us UniWar [$4.99] and Pocket Gold [$0.99 / Lite].
Kral says that they believe Karate fighting games are under represented on the iPhone, and we'd agree.
Embedded deep into a deadly forest, guarded by an army of fierce warriors stands the fortress of the evil warlord Maguro. In the darkest dungeon of the castle Maguro gloats over his lovely captive, the princess Miyuki.

You are one trained in the way of karate. Alone and unarmed, you must defeat Maguro and rescue the beautiful Miyuki.

Put fear and self-concern behind you. You will use your skill and focus all while accepting death as a possibility. This is the way of Karate.
The company is still at an early stage of the game, so character animations are still rough and not final, but here's an early video:
The game is described a high-end adventure game and is expected towards the end of summer. In the end, I'm suspect the control system is going to be the make or break feature for the game. The main competition to speak of at the moment is
Karate Fighter
[
$1.99
/
Lite
] which has had control issues though is
receiving
ongoing updates.