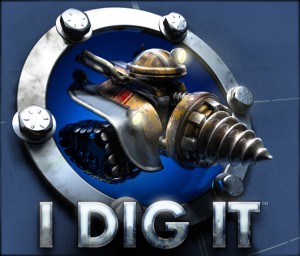 InMotion Software's I Dig It [App Store] puts a new spin on the classic gameplay found in Dig Dug [App Store], bringing unique graphics, an in-depth upgrade system, and resource management to the table.
In I Dig It, you play as Farmer Lewis, a man who is in a bit of a monetary pickle and needs to pay the mortgage on his farm. Naturally, when faced with financial difficulties, the first thing that comes to mind is retrofitting an old bulldozer into a digging machine to search for over 60 types of subterranean treasures beneath your homestead. The bank is coming in four hours, and you need to raise $100,000.
The gameplay is simple, yet challenging. Utilizing the on-screen analog controls, you dig downwards, stopping on your way to pick up the various valuable minerals you come across. When your cargo bay is full, the rocket boosters of your bulldozer turned high-tech digger come into play and help you fly back up to the surface.
Once there, you can sell what you've dug up, refuel, repair, and either buy upgrades or pay off your mortgage. Available in the shop are six different upgrades which cover every aspect of your digger. For instance, upgrading your drill to a titanium bit allows you to drill faster, and upgrading your hull from iron to steel allows you to take more damage.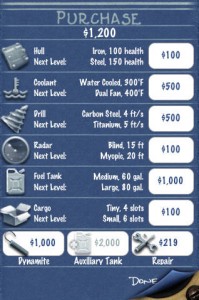 On the surface, I Dig It is a simple dig for treasure game, but it's not until you play it for a while that you start to appreciate the strategy involved in choosing your upgrades and intelligently planning your dig routes. On top of all that, you're constantly faced with the threat of overheating, hull integrity, and you always need to make sure you have enough fuel left to make your way topside.
Digging deep is key to maximizing profits, but also comes with the increased risk of not making it out alive. Death is quite brutal in I Dig It, as there aren't any checkpoints and once you die your only option is to start over. If you get tired of the campaign mode, also included are five different challenge modes, achievements, and an unlockable free play mode.
I Dig It was a hit at WWDC, and unfortunately was lost in the noise of all the big name releases of the week. Since then, InMotion has released I Dig It Lite [App Store] and I Dig It 1.1 which features greatly improved controls, bug fixes, and Facebook connectivity.
Despite the harsh death penalties, I Dig It has kept me coming back for more. I'm a sucker for games that have a great art style, and there are few games that rival that of I Dig It. If nothing else, I'd definitely give I Dig It Lite a try.
App Store Link: I Dig It, $2.99 – I Dig It Lite, Free