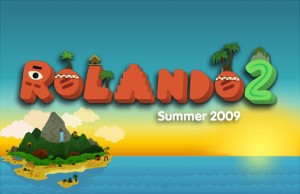 Ngmoco has been slowly revealing more and more about their upcoming title Rolando 2 on their website. Rolando 2, of course, is the sequel to their original iPhone platformer developed by Hand Circus.
To date, Ngmoco has released four walkthrough videos narrated by developer Simon Oliver detailing the new features found in Rolando 2. In case you missed them, they include:
Ngmoco has provided TouchArcade with an early look at the 5th and final walkthrough video that was due to be released tomorrow. The final video shows an overview of the different worlds in Rolandoland as well as the new use of Push challenges as part of their Plus+ network
Once challenged, you are thrown into the specific level challenged and you run through the level as best as you can. At the end, you find out how you fared against your opponent and have the option of challenging your opponent again.
Ngmoco's Plus+ network has gotten a lot of attention since it's launch with the 3.0 firmware. Plus+ and services like it are trying to build up a cohesive social network for gaming on the iPhone, allowing you to compete against your friends in a single network. Plus+ is presently available on Star Defense [$5.99], but should be integrated with all their future products.
Rolando 2 is expected for release this summer. We had some hands on time with the game at WWDC and feel certain that fans of the original will enjoy the sequel.