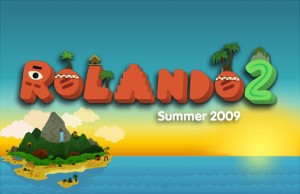 Touch Arcade today had the opportunity to sit down with Simon Oliver, author of the highly popular Rolando [App Store] and the forthcoming Rolando 2: Quest for the Golden Orchid, at Ngmoco's WWDC press event and spend some time with the indie developer's latest and greatest.
Rolando 2's quest for the Golden Orchid ranges across five different game worlds, with 46 levels to play, in all.  Within each world, the player can choose different level-to-level paths, making for a varied, non-linear game experience reminiscent of New Super Mario Brothers.  Part of the motivation to provide these alternative paths to reach the same final goal was to adapt to differ player's skills levels — allowing players to try a different path if they run up against a wall. The various worlds and levels are browsed and chosen in an impressive-looking 3D, in-engine island foyer.  Very polished.
The game's control mechanics are identical to those in the original Rolando, but in addition to the new "2.5D" display mechanic, much has been added to the game.  The Rolandos take on various new abilities this time around, such as eating chili peppers and inflating like a balloon, floating about under accelerometer control, as well as  climbing walls with the aid of a gripping set of spikes.  Bombs growing on vines can be tapped loose and rolled into place to shatter obstacles.  Vehicles have been added to the mix, as well — in a certain level we played, the Rolando had to hop into a mine cart in order to traverse part of the level.
In our brief hands-on time with the title we were very impressed.  The game looks even better when played in person than it appears in the videos.  Simon indicates that Rolando 2 runs at a solid 30 frames per second on every device in the iPhone and iPod Touch family.
Both seasoned Rolando vets and newcomers alike are in for a treat when ngmoco's Rolando 2: Quest for the Golden Orchid rolls into the App Store.