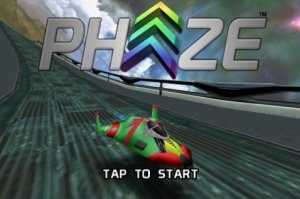 Handmark's Wipeout-like futuristic racer Phaze [link], which we've been tracking since early April, is now available for purchase in the App Store.  Phaze was developed by Pazzazz, who brought us Hellfire [link] and GTS World Racing [link].
Staying pretty close to the Wipeout formula, Phaze puts you in the cockpit of a futuristic maximum velocity racer and pits you against an array of opponents in a bid to cross the finish line first.  Power-ups of various sorts (rockets, shields, energy, etc.) are placed about the track to aid in the win.  Steering (left, right tilt) and acceleration (forward, back tilt) are accelerometer controlled and power-ups are activated with a tap to an on-screen button.
Phaze features a Championship mode where players work their way through the game's 16 races, unlocking tracks and equipment along the way.  Alternatively, Single Race mode is a pick-up race through any of the tracks unlocked in Championship mode.
Features of the game:
4 difficulty levels – Easy through to Extreme
3 race craft to choose from (with 7 more unlockable)
16 futuristic locations
6 types of weapon and defense powerup
Enjoy the in-game music, or play your own soundtrack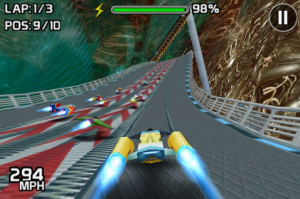 As the title just hit the App Store, we've not spent a great deal of time with it, as yet.  But my initial impressions are that Phaze feels like a mix of Wipeout and F-Zero X that, while a fun play, doesn't quite live up to either in comparing track complexity, control feel (though Phaze does have adjustable sensitivity), and overall presentation — though besting SCE Studio's award winning racing series is a tall order, indeed.  It's probably the most compelling game of the sort in the App Store and fans of the genre should find it a welcome addition to the platform's library.
See our reader's impressions in the Phaze forum thread.
App Store Link: Phaze, $4.99