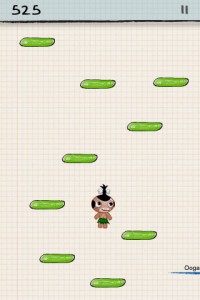 Lima Sky has been making ongoing updates to their excellent Doodle Jump [App Store] game. We first took a look at the game back in March. The game builds where PapiJump left off and the result is a simple but remarkably addictive game.
Since our initial coverage, Lima Sky has added a number of features including: direction shooting, facebook friends leaderboard, monster sound warning and two new monsters. In the latest 1.2.1 update, the company even added a cross-over easter egg that should please Pocket God fans.
Doodle Jump update 1.2.1 brings a secret "easter egg" created in collaboration with Pocket God. If you set your name to one of the default Pocket God pygmy names ("Ooga", "Klik", "Klak", etc.) the original Doodler character will be replaced with a jumping, coconut throwing, oog from Pocket God!
Lima Sky's Igor Pusenjak also reports that they have more surprises in store for this game as well as in Bolt Creative's Pocket God.
Pocket God is, of course, the massively popular entertainment app that we looked at in April. Bolt Creative has been churning out ongoing updates and are up to the 17th episode/version of Pocket God.
If you happened to miss it the first time around, we still highly recommend Doodle Jump for simple but surprisingly compelling gameplay.
App Store Link: Doodle Jump, $0.99, Pocket God, $0.99