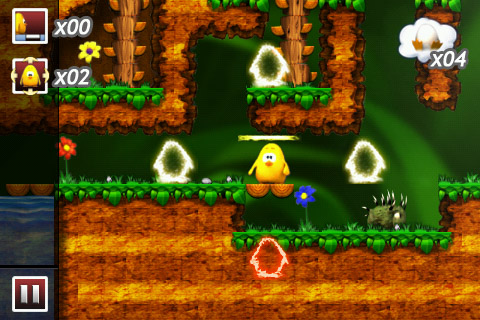 A few weeks ago, Two Tribes announced that they would be bringing their well received platform puzzler Toki Tori to the iPhone. The company has since seeded us with an early preview release and it looks and feels great.
The game is a platformer in which you (Toki Tori) must navigate levels in order to rescue all the eggs. Special tools are provided that can (and must) be used to solve each level. Tools can help Toki Tori move around obstacles (telewarp, bridge) or weapons to thwart enemies. The tools only have a limited number of uses so you must use them wisely.
Two Tribes has adopted a seemingly effective touch-control method to control the game. Tapping on your destination sends Toki Tori walking to that spot. Tools are trigged by special icons on the top left of the screen.
The included video shows off some of the easier levels from the preview release of the iPhone version.

[ Full HD version | Low Bandwidth version ]
The final version of the game is expected in first Quarter of 2009 and already seems like one to get. We'll have a full review once the final version is available.