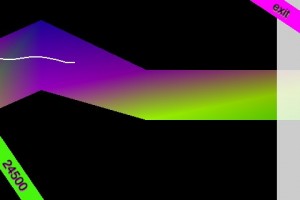 DifferentCloth's Lilt Line [$2.99] is an original music/rhythm game for the iPhone set to a dubstep soundtrack by 16bit.
In a world of match-3 games, DifferentCloth delivers a refreshing concept that I love — but a little more in theory than in practice.
The game is stylistically simple which seems to work. The gameplay is also somewhat simple. Steer a growing line through a simple maze while avoiding the walls. Tap on the screen as you pass white bars which represent beats in the music. Manage to accomplish both of these tasks and you are rewarded with a smooth playing soundtrack. Miss a bar or hit a wall, and the music still stutter and your score will lower.
The game contains only 10 levels of progressive difficulty and has been criticized for being short, though getting a perfect score on each level will take some time.
Music/rhythm gamer fans or anyone looking for a different type of game will find this an enjoyable experience, but with its relative simplicity and short length I don't necessarily believe it will appeal to the broader audience.
Some other reactions can be found in our forums.
App Store Line: Lilt Line, $2.99