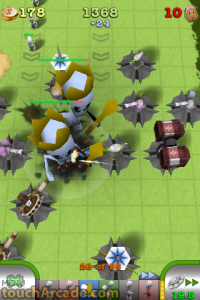 Arash Keshmirian of Limbic Software has provided TouchArcade with exclusive details about their upcoming 3D Tower Defense game that has been in secret development for the past 6 months.
Evil aliens are coming to steal your sheep and turn them into a new scarf for their Emperor! You must stop them!

TowerMadness is a giant leap forward in Tower Defense games for the iPhone and iPod Touch. Easy to pick up for beginners, yet challenging enough for the seasoned gamer.
Tower Madness offers an open-field Tower Defense game with fully 3D graphics allowing you to zoom in and around the action. Naturally, comparisons will be made with Star Defense another upcoming 3D Tower Defense game from Ngmoco that has been getting a bit of press in the past few months.
Right off, it seems they took a very different approach in their version of the same basic concept. Most notably their levels seem to be more traditional flat fields rather than the spherical or cube shapes that we've seen Star Defense. Gameplay-wise, Limbic has opted for an open-field design similar to Fieldrunners. Rather than playing along a set path, you are given the freedom to place your towers to create your own path.
The developers also list a number of impressive features with a large number of gameplay elements and some unique online elements such as replays and free downloadable content.
High-performance 3D graphics
Meticulously crafted and polished gameplay
Spatialized positional audio
Challenging path-finding enemy AI (no boring predefined paths!)
16 unique enemy types
9 unique tower types with 5 upgrades each
4 maps in the Campaign with increasing levels of difficulty and complexity
Account profiles let you share TowerMadness with up to 5 friends and family, keeping your scores and saved games separate
Fast graphics mode option for slower devices and maximum framerates
Free downloadable maps and game modes to keep the madness going
Replays let you show off your strategies, learn new ones, and watch your friends play
Compete with global high scores
This embedded gameplay video walks through the basics of the game and 3D animations. A separate gameplay video shows more action on a different map.
[ Full HD version | Low Bandwidth version ]
Limbic doesn't seem to be shy about comparisons with existing Tower Defense games in the App Store and even provides a chart comparing Tower Madness to a number of other games including: Star Defense, Tap Defense, Fieldrunners and geoDefense. Naturally, these charts tend to favor the author's product, but it shows what features they are pushing.
Here is a collection of screenshots from the game (click to see larger):
The game has been submitted to approval to Apple just yesterday, so we should be seeing this game in the next week or so. You can also follow the release on
Twitter
and
Facebook
.