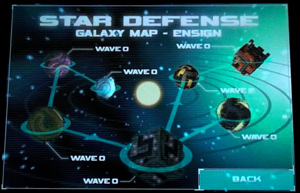 Touch Arcade visited the offices of ngmoco today for a hands-on preview of the company's upcoming 3D tower defense game Star Defense.  Stephanie Morgan, the game's producer, walked us through the features of this upcoming title and gave us a chance to try our luck at their fresh, new spin on the tower defense proposition.
Star Defense is a path-based tower defense game set across various planets in a far away starsystem.  A footpath meanders its way around each planet, ending at a valuable mineral resource facility.  Hovering above the start of each path is the spacecraft of the sinister, invading aliens, which beams wave after wave of creatures onto the path where they slowly advance towards the mineral resource.  The player's task is to defend the resource by placing various defense towers along the path, rotating and zooming the planet in and out as needed (swipe, spread, pinch) to find the ideal placement.  40 waves of aliens destroyed unlocks the next planet, 60 waves destroyed wins an achievement, and 80 waves destroyed is a perfect win of a planet.  But if 10 aliens manage to withstand your defenses and reach the mineral resource, it's game over.
A few details:
7 planets available in the launch version (5 spherical, 2 cubic)
5 different tower types inflicting various types of damage: electrical, physical, fire, and reduced speed
10 types of invaders
Limit of 30 towers placed on a given planet
3 levels of difficulty
We spent considerable time with the game and found it to be very playable with natural controls and great responsiveness.  The planetary graphics and accompanying galactic backdrops are impressive and the overall play mechanic feels very solid. Make no mistake, tower defense fans are in for something special.
Ngmoco was kind enough to allow us to capture footage of Star Defense gameplay during our visit.  Note that the developer build we were playing was basically a "God mode" build, with all towers enabled, cash levels set to maximum, etc. and so the gameplay shown does not represent the balance or typical play strategy of the upcoming release version.  This video simply serves the purpose of demonstrating the game's features.

[ Full HD version | Low Bandwidth version ]
Morgan indicates that the game is currently undergoing subtle game balance tweaks and is close to release status.  Star Defense will hit the App Store sometime in April.