Capcom released the iPhone version of Resident Evil: Degeneration [App Store] for $6.99.
The app brings the long running Resident Evil video game franchise to the iPhone and iPod Touch. This installation of the game is based on a recently released computer animated movie and drops you into a 3rd person perspective horror shooter. The game lists the following features:
Explore Harvardville Airport, rescue survivors, unlock puzzles and battle an army of undead.
Use your in-game PDA to collect intel, manage inventory and access maps.
"Laser targeting" allows the players to make aimed accurate shots.
Backgrounds, character models and objects are all rendered in full 3D.
Tilt device to reload, shake iPhone/iPod Touch to shake off Zombies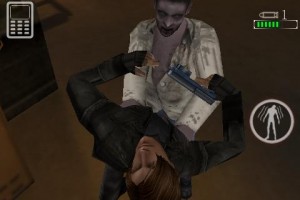 While we had heard of the release was coming few details had been released prior to its appearance in the App Store tonight.
The game features an impressive 3d engine and a combination of virtual d-pad and on-screen buttons to control the action. Movement is controlled through the virtual d-pad and a quick flick down on the pad causes you to turn around 180 degrees. An action button appears when something can be done (pick up an item, open a door, climb a ladder) and a targeting button transitions you into shooting mode. In shooting mode, you have a laser sight to target the zombies and you can use the d-pad to aim up/down/left/right.
The game includes a pretty heavy storyline and in-game cut scenes which direct you to your goals. The cut scenes actually work out quite well to tie the action together. In my early experience, the controls seem to work well enough when you take into account the slow deliberate movement of the zombies. Being unable to shoot and move at the same time, however, made for some awkward early fights.
Early impressions are being recorded in a forum thread. Many of the early opinions have been quite positive: Seishu and skamando. Some later (but still early) forum goers are still adjusting to the controls.
You can judge for yourself in this gameplay video embedded below. AppBank also provides a video in Japanese here which shows a different portion of the game.
[ Full HD version | Low Bandwidth version ]
What we can't easily answer at this early stage is how much gameplay is being offered, but that will be revealed over time. For now, it appears to be a surprisingly well implemented version of this popular franchise.
App Store Link: Resident Evil: Degeneration, $6.99