When one loooks back on the truly classic handful of video games that set the stage for what was to come and made a real mark with a simple, solid gameplay mechanic, one does not forget Namco's Dig Dug.  Released in 1982, Dig Dug challenges the player to eliminate level upon level of underground-dwelling monsters.  In a unique twist, Dig Dug arms the player with an air pump in order to inflate enemies to the point of exploding.  It was scads of fun.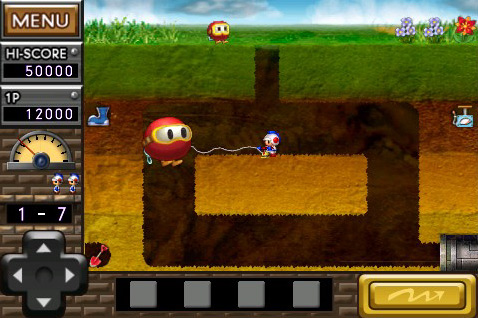 And, now, that's fun you can carry around in your pocket.  Namco has just released Dig Dug REMIX [App Store], an iPhone port of the '80s classic, to the App Store.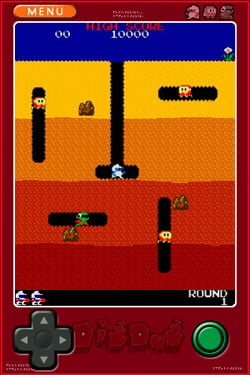 Dig Dug REMIX for the iPhone features a graphically updated version of the arcade classic that strives to bring the dig / inflate / explode game mechanic into the 21st century.  Happily, a classic version featuring the original graphics and audio is also included.
Famous enemies, "Pooka" and "Fygar" also appear on the scene. Dig through the dirt while destroying all enemies using an air pump and rocks! With all the cool new features, this game is sure to deliver countless hours of digging fun.
Dig Dug REMIX offers two methods of controls: swipe-and-hold as well as a virtual D-pad arrangement.  In my time with the game, I found the swipe-and-hold method to be superior to the virtual D-pad, which is rather small and, as such, suffers from inaccuracy for anyone with human-sized fingers.  Niether control method is perfect, but at least swipe and hold presents a respectable chance of coherent control.
Whether you're a nostalgic arcade button-smasher or completely new to the game, you really can't go wrong with this new take on the classic known as Dig Dug.
See a gameplay video of the REMIX side of the action:
App Store Link: Dig Dug REMIX, $5.99