This has been an busy week for the App Store!
Gameloft's Terminator Salvation [App Store] just went up for sale following an already impressive lineup of big name titles released recently. Fans of the Terminator universe should find themselves right at home as they dive in to the action of this third person shooter.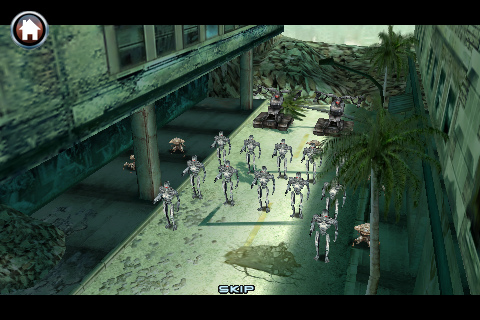 Play as John Connor and Marcus Wright, each having their own strengths and special abilities.
4 different controls that take advantage of the iPhone-specific touch screen and accelerometer to fit any playing style.
Counter hordes of 11 different enemies sent by Skynet, including some exclusive models exclusively designed for the iPhone & iPod touch game.
6 weapons from shotgun to surge cannon and grenade launcher.
360 degree view of 3D environments through 8 levels.
Play as a T-600 in an unlockable game mode.
Terminator Salvation is a 3D shooter that gives you a 360 degree view and has 8 missions where you play John Connor who is battling alongside Marcus Wright and Kyle Reese.
After sinking my teeth in to this game for a bit, I like what I've seen so far. Terminator Salvation comes packed with a pretty generous aim assist system, which greatly assists in easing the frustrations in playing a game where you control both your movement and aiming on the iPhone. Also featured is a cover system which reminds me a lot of Gears of War. Terminator Salvation is also loaded with plenty of scripted events and cut scenes rendered inside of the game engine that keep the plot flowing.
The game should feel very familiar to those who have played Gameloft's Brothers in Arms which shares a similar (if not same) engine.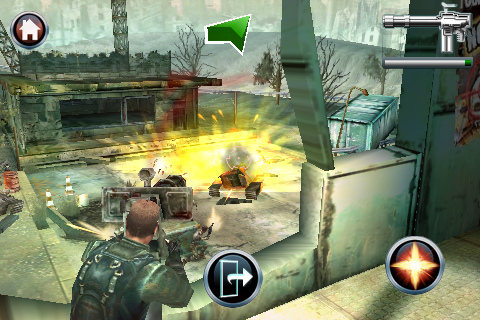 As a huge fan of the Terminator movies (and even the new TV show), I've really been enjoying the game so far.
The game is being heavily discussed in our forums with some detailed impressions already provided. While the game itself seems solid, it's relatively short length seems to be the main criticism. At least one player already completed the game once-through, confirming the originally estimated gameplay time of only 2-3 hours. So, while Terminator fans will likely enjoy the game, the short gameplay time may not justify the $9.99 price for those with a more casual interest.

[ Full HD version | Low Bandwidth version ]
App Store Link: Terminator Salvation, $9.99