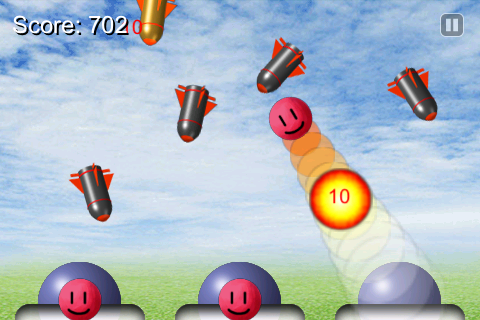 Long time readers will know that I have a strange obsession with Sunflat's Papi-series of iPhone games. It all started with Papi Jump which was a brilliant yet simple game.
It's hard to say if Sunflat has been able to surpass their initial iPhone effort, but their collection of games always contain a surprising amount of playability. The latest game is similar to Missile Command. Here's the developer's game description (which is part of the Papi experience):
OMG! Many enemy missiles are falling down to the Papi Town. Slide your finger from a military base to launch Mr.Papi (red ball guy) and break all the enemy missiles.

– If you break many missiles at a time, you get more score.
– If all the bases are destroyed by missiles, the game is over.
– Sometimes an extra base flies through the air. If he gets it, a destroyed base will be recovered.
The game becomes quite difficult as the levels progress, it provides a simple, free diversion.
App Store Link: PapiMissile, Free