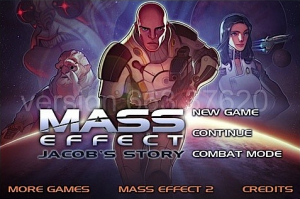 Fans of BioWare's action RPG Mass Effect have something to look forward to.  According to Joystiq, it was revealed in a survey taken by a reader that EA will be bringing Mass Effect: Jacob's Story to the App Store.
The iPhone version is a top-down shooter, punctuated with comic book-style sequences, featuring Jacob Taylor, "a biotic-powered super-soldier who stumbles across a plot to terrorize civilization's greatest beacon of hope."  Jacob's Story will serve as a predecessor to the upcoming Xbox 360 and PC title Mass Effect 2, introducing players to some of the characters' backstories.
According to Joystiq, depending on the success of the title, EA and BioWare may look into expanding the game into an entire series.  The survey also suggests that  mobile versions of the upcoming Dragon Age RPG are under consideration.
Jacob's Story is expected to provide about two hours of gameplay and to debut at a price point of $2.99.  No release date is indicated.