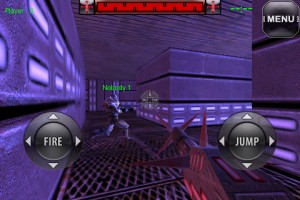 Pick Up and Play has released their online multiplayer first person shooter iFPS Online [link] into the App Store this evening.
iFPS Online features a full 3D FPS experience. Challenge your friends to a death match with up to four players. The first and only iPhone online multiplayer FPS. Host a game through your wifi; Join a game through your wifi or 3G!
The game offers online deathmatch with up to 4 players over Wi-Fi or a 3G connection, making it the first App Store game to do so.
First impressions of the game can be best summarized as "not bad". The game offers two types of control:
Two Joystick – left stick for movement, right stick for looking around with Fire and Jump buttons on each stick, respectively
One Joystick – single stick for movement, accelerometer for looking and two on screen buttons for jump or fire
Both control systems seem less than ideal. I found the dual-stick option the more usable in my very brief time with the game.
The developer's gameplay video shows off the controls and action:
The game feels rough to start, and the three included multiplayer maps are quite small. When tested over a 3G connection iFPS was reasonably playable, though we haven't had an opportunity to test the game in more ideal scenarios (such as a local Wi-Fi connection) yet.
The gameplay itself is limited compared to most modern FPSs with only 2 possible weapons. Matches can limited to # of kills or a certain number of minutes and player kills are tallied on screen. In-game chat is accomplished through pre-defined phrases that can be triggered during the game. iFPS does offer a single player Survival mode and a Practice mode where you play against the AI, but the real draw to the game is the multiplayer.
Despite the limitations, why's it still "not bad"? Well, there's something about online-multiplayer deathmatch that is very compelling and I found my first few online matches very enjoyable. It does, however, also make me look forward to more ambitious multiplayer FPS games such as Ngmoco's LiveFire which has already been announced.
iFPS is also being discussed by TouchArcade readers in this discussion thread, and we'll provide some more thoughts when we've had more time with the game.
Be sure to restart your iPhone or iPod Touch before playing the game for the first time. There have been reports that many of the performance issues can be addressed with a restart.
App Store Link: iFPS Online, $3.99