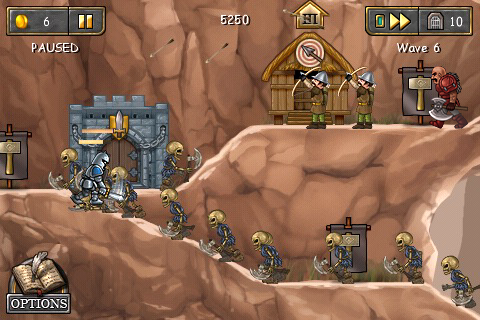 Early screenshot
Every since we saw the first screenshot for the upcoming Defender Chronicles iPhone game back in February, we've been anxious to hear more about the it. The game is said to be a fresh take on Tower Defense that's also blended with a role-playing adventure. The game is being developed by Gimka Entertainment, Inc and Menara Games and they have just released to us the first gameplay video… and it looks very promising.
Defender Chronicles is set in a fantasy medieval world. The capital city of men, Londrom has fallen to the Orc Hordes. As a warlord, you must defend the Empire from the invasion of the Orc Hordes and the rising Undead.
Gameplay features include:
6 distinct defenders – warrior, archer, berserker, ranger, halfling, and mage. Each defender has its own unique ability and voice acting.
5 beautifully hand-drawn battlegrounds – with the side-view perspective, you can now zoom in to view the battle close up.
5 game modes – campaign, classic, classic endless, extended, and extended endless.
4 difficulty levels – casual, veteran, master, heroic. Each difficulty level is designed carefully for a specific audience and each can be won with perfect score.
Fun storyline – travel the path of a legendary defender as you lead the army through the beautiful land of Athelia and with the company of your trusted advisor.
Fight a variety of enemy bosses – from Gnoll Captain, Orc Chieftain, and Queen Goblin to the fearsome Wyrm Rider Duo, Awe Inspiring Giant Golem and Meat Chomping Slimeballs.
Four original music soundtracks and a variety of sound effects with 3D positioning – zoom in to hear the battle just like you where there.
The game is expected for release in May and will be priced at $4.99.