Yesterday, Touch Arcade spent some time at ngmoco's headquarters having a look at a few of their upcoming games.  In our last post we gave a hands-on look at the company's upcoming 3D tower defense game Star Defense. 
Ngmoco producers Stephanie Morgan and Chris Plummer also gave us the chance to have a look at their upcoming virtual pet title Touch Pet Dogs as well as first-person shooter LiveFire. Like some of our readers, we weren't exactly sure what to make of Touch Pet Dogs from the pre-release information, but we found it to be a surprisingly deep and polished experience.
Touch Pet Dogs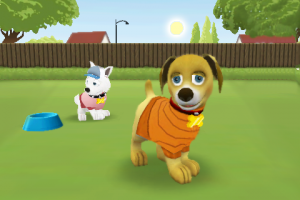 Touch Pet Dogs, created by Andrew Stern, the man behind Virtual Babyz, Dogz and Catz, is a virtual pet simulation that delivers perhaps the most "realistic" and involving experiences of any such title we've seen to date.  As the company describes it,
In Touch Pets Dogs, players adopt, nurture and play with their virtual puppies through one-on-one touch screen interaction or on play dates with other players' dogs from around the world. The ambitious Touch Pets social network, embedded within the game, allows owners and dogs alike to build relationships with other players and their Touch Pets. Puppies' social lives continue to evolve whether their owners are logged into the game or not, and the results are broadcast for the world to see on the Touch Pets social network dog feed.
The game starts off at a virtual pet shop where the player can choose a puppy of his or her liking.  The virtual puppy comes home from the pet shop knowing how to do very little.  It's just eat, sleep, and…well…poop, at first.  It's up to the new owner to teach the puppy how to chase a ball, catch a boomerang, and do other tricks like walking on two feet.  This is done by simply playing with the dog with various doggie toys (moving them around the screen with a finger) as well as using doggie treats in conjunction with training gestures for more complex tricks.
Aside from playing in the house and yard, there are five career tracks (or missions) that the virtual puppie can engage in: crime fighting, rescue operations, fashion diva, politician, and scientist.  Each of these missions have associated venues, and success in each is awarded by relevant doggie items, such as police hats, jackets, and the like.  The missions are actually more about successfully conducting warm-up play sessions and having learned the appropriate skills (chasing, catching, etc..) rather than performing the actual mission which simply returns a simple "success" or "failure" when attempted.
The game features a social networking side that's somewhat akin to a Twitter feed.  Whenever doggie makes a notable accomplishment, such as completing a mission successfuly, that accomplishment (and associated image) is posted to a global feed and can be seen by anyone online.  Players wanting to keep tabs on each others' accomplishments can share in a friend feed.  Another aspect of the game's social networking capabilities is the ability to engage in play dates with others' pets.  Some dogs may not enjoy each others' company…and some may fall in love.
What impressed us most about Touch Pets Dogs is the artificial intelligence driving the virtual pets.  The learning process is convincing and the dogs really do seem to have their own personality.  Anyone relating to the genre will have little trouble forming an emotional bond with the onscreen canine.
We captured a gameplay video of Plummer playing the latest build, walking us through some of the game's features.

[ Full HD version | Low Bandwidth version ]
LiveFire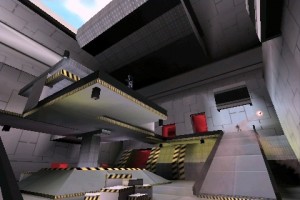 We also had a chance to play more than a few rounds of LiveFire deathmatch. 
The demo builds on the 2G iPod touch showed an impressively high framerate with very smooth 3D animation in the 3-person game we played. 
While we played over the studio's WiFi networks, Plummer tells us that gameplay over the 3G networks is just as responsive, thanks to the heavy customizations ngmoco has made to the Quake 3 engine upon which the game is based.
The game's controls are modeled closely after those of Dropship; left and right thumbs control movement and view angle, not at a fixed point onscreen, but outward from an origina tap anywhere on the left and right sides of the screen.  It works well and feels comfortable. The game will focus on versions of online deathmatch play rather than single-player modes.
I think most telling is the fact that, even with this early build, we got lost in playing the game against each other — well after the demo portion of our meeting with ngmoco was over.
We don't have an exact release date on either title, but Touch Pets Dogs is expected in the spring.