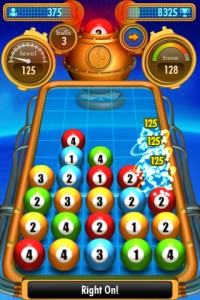 Just when you think you've seen enough of match-3 games, another comes walking through the door.. and this time for free. Color Drops [App Store] is from JVL Corporation whose mantra is "We take our games seriously", and that's obviously true in the case of Color Drops.
The rules of the game are somewhat simple: match three or more balls by number or color and this can be done horizontally, vertically and diagonally. The game is polished from the music and graphics to the interface and overall gameplay.
Overall, Color Drops is a great variation on the traditional match-3 game, and while the gameplay may be simple, it's obvious that the developers put a good deal of thought into the game itself and added some nice touches that take advantage of the iPhone/iPod Touch.
There is a Color Drops thread in our forum where it's seen rather positive reaction from readers.
App Store Link: Color Drops, Free
UPDATE: The game seems to be available again.