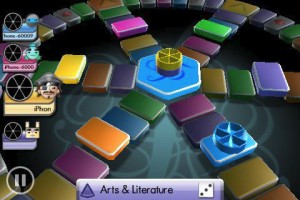 EA has released their iPhone version of Trivial Pursuit [App Store]. The popular board game involves players testing their knowledge of trivia questions across a number of different topics.
Knowledge meets fun in this stylish version of the classic! With over 3,500 text and picture questions, you'll never run out of answers! Stunning 3D graphics and rich sound effects immerse you in the game. Feeling nostalgic? Play a round in Classic Mode. In the mood for something new? Test your wit in Pursuit Mode.
EA lists the following features in the iPhone version:
Over 3,500 questions including 2,900 text and 600 picture questions
WiFi MP for up to four (4) players
Pass & Play MP for up to six (6) players
Simple and intuitive touchscreen controls
Exciting 3D visuals and sound effects
Features and Game Modes enhance replayability and depth
Some first impressions and a description of "Pursuit Mode" by forum user sizzlakalonji:
I got it, and enjoy it. So far I've played one game against AI on medium mode, and won. I've also played part of one game of Pursuit mode, which is an interesting twist on the classic. Basically, you are rewarded for the speed of your answer by getting to move your token more spaces toward the "finish line". The things I like: The visual style is nice, but not distracting with unnecessary animation (something I think is a problem with Monopoly). The questions seem of a good relative difficulty. I like that when it's the AI's turn, you don't see the question, only if they got it right or not (this would be wasted questions you could potentially be asked later). Probably my favorite part are the picture based questions. Photos have been incorporated into some questions which add a nice degree of change from strictly text based trivia. The only negative so far is something that I can't see how they could avoid, namely the questions having to be multiple choice. This is obviously different from traditional TP, but I noticed that in settings you could choose the amount of time a person has to answer the question.
Meanwhile, for those who missed it the first time, EA has re-released Lemonade Tycoon as a free ad-supported download. EA had briefly released the game last week but it had been pulled for unclear reasons.
App Store Link: Trivial Pursuit (U.S.), $4.99, Trivial Pursuit (International), Lemonade Tycoon, Free