As Pocket Gamer reports, renowned UK-based game studio Team 17, who last year announced they would be bringing their most notable title, Worms, to the iPhone, has just released photos of the game in action.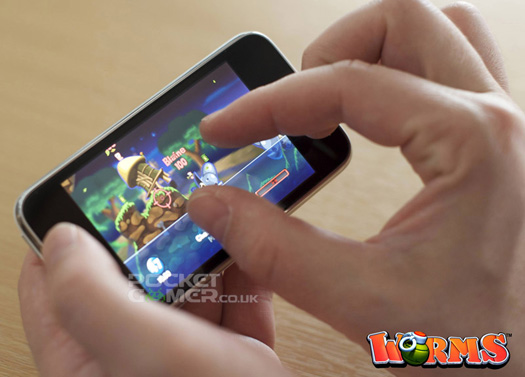 Originally an Amiga title, Worms is a turn-based game in the vein of Scorched Earth, where two teams of worms face off across various craggy battlefields, armed with a variety of weapons (bazookas, cluster grenades, air strikes, etc.), in a bid to wipe out the other team and emerge victorious with the last worm standing.  The original can be played between two human opponents or as a single player game against the computer.  It's an extremely well executed take on the formula and has gathered something of a cult following among fans of the genre.
Team 17 won rave reviews for Worms as well as several other Amiga titles, including the top-down shooter Alien Breed series and platformer Superfrog.  The studio went on to develop games for Windows PCs and all major game consoles.  The arrival of Team 17 in the iPhone gaming camp is great news for the platform and hopefully this is just the beginning of the studio's iPhone involvement with the platform.
We'll bring further news on Worms and Team 17 as it develops.
UPDATE: Team 17 has recently released Worms for the PS3 on the Playstation Network.  While we don't have confirmation of this, the iPhone version may be an adaptation of the PS3 release — or at least share some common remake features.  A look at screenshots of the PS3 version does show some stylistic similarity.  See a video of the PS3 game in action.