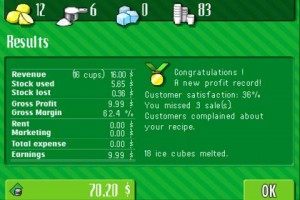 EA has released an ad-supported version of Lemonade Tycoon for free in the App Store [link].
The game originated as a Shockwave-based game and has since been ported to many platforms. The goal of Lemonade Tycoon is to sell lemonade for profit:
Lemonade Tycoon is one of the most in-depth and intensely featured business simulation games available. By applying savvy business strategies and increasing your cash reserves, you can quickly move to the top of your game. Experiment with different tactics to discover the secret recipe for success and save up to six games at once. Manage your business from every aspect imaginable ─ customize location, supplies, and even the climate!
In a break from its existing games, EA has released this game as a free version with "tastefully integrated sponsor messages". Features include:
Manage an entire business including pricing, inventory and supplies, marketing and advertising, and your own staff!
Customize weather, supplies and your secret lemonade recipe in an imaginative location, all while maximizing visibility, allure and overall profits
Multiple customer types with unique, interactive personalities
Open-ended "Career Mode" and "30-Day Challenge"
App Store Link: Lemonade Tycoon, Free