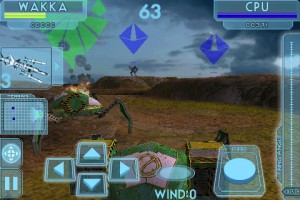 Last night Polarbit released Iron Sight [App Store] a turn-based trajectory battle game akin to Worms or iShoot [App Store] but in three dimensions.
TouchArcade's Big Albie provides his first impressions from the game:
If you've ever wanted to play a good 3D version of iShoot, Iron Sight is it. I'll be the first to say that it exceeded my expectations in terms of graphics, animation and just the layout of the game. The sound effects and edgy music complement the game pretty well. The storyline is that the human race has been taken over by the Corporation which is run by robots. As part of the Rebellion, you are the human race fighting for survival and battling the evil Corporation.
The game comes with single player and multi-player modes and offers three levels of difficulty: easy, medium and hard.
In single player, there are both campaign and single mission modes. Campaign has 8 levels that are unlocked as you play.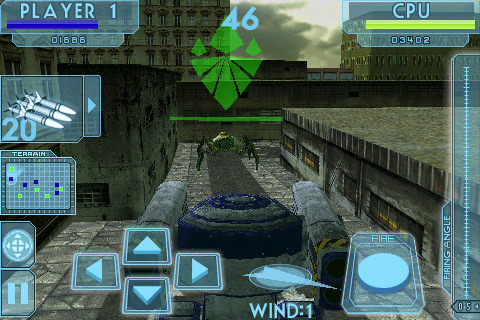 The game uses a virtual d-pad to move your vehicles with buttons to change weapons, change trajectory and fire your weapon. The longer you hold the fire button, the farther your weapon will launch. Terrain map, battlefield view mode and weapon power gauges help you target your shot.
Weapons include Basic, Cluster, Shrapnel, Hydra, and Homing. There is also Artillery Support which sprays a variety of weapons fire, and Teleport which allows you to deploy squad units.
Albie found the game to be particularly enjoyable:
The graphics and animation are great. From the damage and destruction shown in the vehicles (you can actually see damage and blown circuits) to the various landscapes, the game is very polished. The gameplay itself is turn-based, and I found that the Corporation is the stronger of the two, and you can experience that for yourself. Your opponent moves a lot so you'll be fiddling with your controls and maneuvering to protect yourself. The controls are very responsive and accurate based on my settings, and you also receive weapons drops in the form of crates throughout the level. Once you complete or lose a level, a statistics page shows such things as # of successful missile hits, remaining shields, and accuracy. The one shortcoming of Iron Sight is that it does not track high scores local or online as far as I can tell. Plus because the game is new, my guess is not too many people are online just yet.
More positive reactions in the discussion thread and the developer's gameplay video:
The game is on sale for $0.99 for the first 10 days of its release.
App Store Link: Iron Sight, $0.99