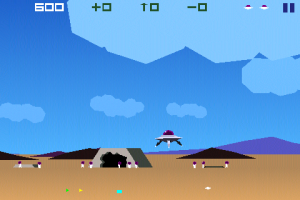 My first real computer was an Apple //c purchased back in April 1984.  (Well, it was really my second, but that's a long story.)  I had so much fun with it during that first week that it's hard to describe.  One of the first games I got for it was Dan Gorlin's Choplifter, published by Brøderbund.  It was released in 1982 and ported to a number of other platforms, and in 1985 was released in the arcade by Sega.  I know of no other Apple II title that made it to the arcade.  That should tell you something about the retro classic that is Choplifter.
Anyone who got all dreamy-eyed reading the above paragraph should get ready for some retro iPhone gaming goodness.  Paul Pridham has just submitted an iPhone version of his Choplifter-inspired rescue action shooter Saucelifter, originally released for the PC in 2006.
A peaceful interstellar mission-gone-wrong has left your crewmates stranded, and in the hands of an aggressive Earth military! Now, your mastery of superior flying-saucer technology is their only hope for survival.

Will you rescue the helpless captives and beam them home to safety.. or will Earth's mechanized military madness result in your total destruction?
Gameplay involves flying your saucer to the Earth prison barracks, blasting open the doors, picking up your captive crewmates, and dropping them off at the transporter where they're beamed safely back to your alien world.  This is made challenging by evil Earth forces, including tanks, laser turrets, and flying attack drones.  As can be seen in the demo video, the action can get pretty intense.
Features as listed by the developer:
Addictive, pick-up-and-play action (no annoying dialogs or interruptions)
Silky-smooth, crisp vector graphics
Dynamic stereo sound effects, and lots of 'em
Accelerometer-controlled flying saucer! (what else do you really need?)
Easy auto-calibration of tilt controls
Superior alien 3-way touch-firing technology
Easy-to-follow Tutorial Mode
Multiple difficulty levels
High scores
Listen to your music while you play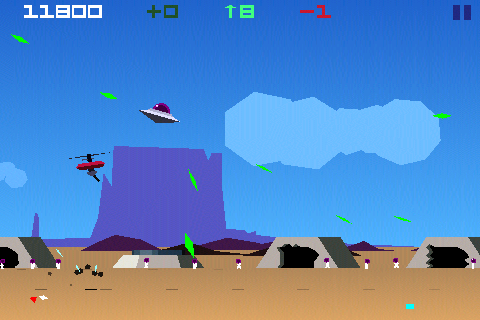 While Choplifter featured basic raster graphics, Saucelifter is vector based and done in a style reminiscent of the graphics from Out of this World / Another World.  It has spot-on, accelerometer-based motion control with a tap to the screen to fire.  I've got my hands on an early release of the final version and it really does feel like Choplifter.  It's been great fun to play–a most enjoyable walk down memory lane.
With many retro titles I warn readers that the retro gameplay is…well…retro, and may appeal only to gamers with fond, long-ago memories of the original.  That's not the case with Saucelifter.  It, like the original Choplifter, stands up just fine as an action shooter, today.  This is one retro title I can highly recommend to all iPhone gamers.
Saucelifter has been submitted to the App Store and should appear for download sometime in the next few days.  It will debut at $1.99.
See our gameplay video for a feel of the action.

[ Full HD version | Low Bandwidth version ]
Game Details

Name:

Saucelifter (v1.0)

Price:

$1.99 [Coming Soon]

Developer:

Madgarden

Size:

?

Device:

Tested on iPhone 3G
Saucelifter is a well done Choplifter clone featuring clean 2D graphics and faithful, engaging gameplay. Any fan of the Apple II original will enjoy this one immensely, and so will most other gamers out there.