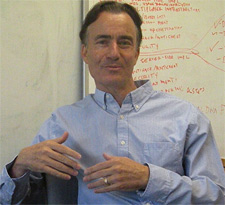 William 'Trip' Hawkins III was the Director of Strategy and Marketing at Apple when he left in 1982 to form software house Electronic Arts which, during his tenure, became the world's largest video game publisher (and today, remains one of the world's leading publishers).  He left EA in the early '90s to form 3DO which, thanks to Sony and the Playstation, was a venture of rather less sucess.
As mobile devices began seeing widespread use, Hawkins formed mobile game development company Digital Chocolate in 2003.  The now 350 person, San Mateo, CA-based company has developed games for a wide variety of mobile handsets and has received a number of accolades, including the Best Developer of the Year awards from both IGN and Mobile Entertainment.
And while four of the five iPhone games Digital Chocolate has released for the iPhone since December have hit No. 1 in the App Store — no small feat — Hawkins admits to VentureBeat that the company was late to the game with the iPhone.
The iPhone for us was a spectacularly pleasant surprise. We had no idea it was going to be as good for us as it turned out to be.
Hawkins indicates that the iPhone presents a rare opportunity for Digital Chocolate and that it is really incomparable as a game platform to the myriad of mobile handsets on the market.
It's by far our most effective platform. We make as much money with these games on one device as we do putting a game on 100 different cell phone platforms. Between the iPod Touch and the iPhone, I think the platform is freaking out Sony and Nintendo. Apple has sold 30 million units so far and it has created tremendous awareness. It has taken ground all over the world. But it has only penetrated one half of one percent of its total market.
…
The platform can finally keep up with the things that you want to do. It reminds me of the Sega Genesis, when EA finally had a platform that could keep up with the games we wanted to make.
See VentureBeat's full interview to hear more of Trip Hawkins' thoughts on Apple's mobile games console.