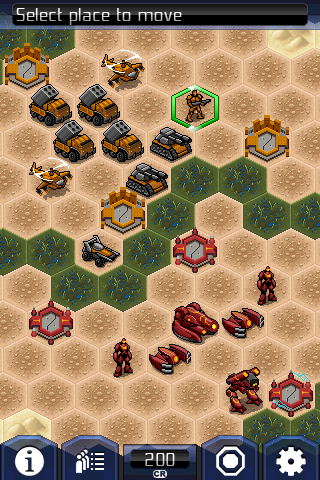 Javaground's turn-based stategy game UniWar has been released to the app store at an introductory price of $0.99 [App Store]. We exclusively previewed this game at GDC 2009.
The game is a turn-based strategy game which offers what appears to be remarkably deep level of gameplay as well as unlimited online replayability.
The game is centered around grid-based maps in which your goal is to take control of the enemy bases. For each base you control, you earn more resources per turn. These resources can be used to buy additional units. Units vary in a number of statistics and special abilities.
Different capabilities include mobility, attack strength (ground, aerial, aquatic), defense strength, ability to capture bases, ability to attack after move and more. An example of one of the special units is the "Engineer" which can not attack or defend but can re-program enemy mechas to join your army.
The game lists the following features:
3 races, each with varied units
50+ maps to choose from with up to 8 players
Play up to 20 games at once
Team play allows 2v2, 3v3, and 4v4
Campaign mode with 21 missions
Play modes: Multiplayer online, VS the phone A.I., VS friend on same device (hot seat) and campaign mode
Worldwide Global Ladder
Email notifications when it is your turn
Cross-platform game. Play your friends even if they have another phone model.
One big strength seems to be the offering of multiple types of gameplay options that will prevent you from getting bored:
Campaign mode acts as a tutorial to start and walks you through 21 different missions to complete very specific tasks. Early tasks show you how to move, attack and build and you progress from there.
Solo mode allows you to pick a map (most are locked to start) and simply play head-to-head against the iPhone's AI. The gameplay alternates moves between you and the iPhone until a winner emerges (bases captured).
Multiplayer Online is what adds unlimited replayability to the game. As a turn-based game, the online play is designed to be done asynchronously. That is, you can have up to 20 games running simultaneously and you can simply check-in at your convenience to make your next move. Your move is uploaded to Javaground's servers and transmitted to your opponents when they check-in on their side.
Javaground walks through the online play and basic mechanics of the game in our GDC video:

[ Full HD version | Low Bandwidth version ]
Even given our short time with the game, it feels solid, stable and a bargain at only $0.99. If you have any interest this sort of strategy game, it's hard to believe you'll be disappointed. Early impressions from other TouchArcade members are being recorded in this discussion thread.
App Store Link: UniWar, $0.99 (introductory price)