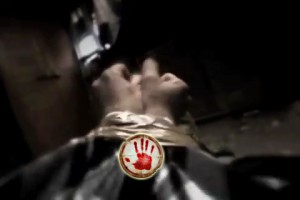 Bulky Pix has released their interactive movie adventure Hysteria Project [App Store Link] that we previewed in February.
The game begins with the premise that you find yourself tied up by a strange cabin, and your job is to escape and stay alive. The game is a series of video clips tied together with multiple choice decision points and plays like a choose-your-own-adventure. The developer's video shows the gameplay in action:
The initial "pilot" episode is said to offer 30-40 minutes of play and is available for $1.99 and the rest of the story will arrive in subsequent episodes.
Fortunately, players can continue at the last decision branch before their demise. This avoids the need to restart from the beginning of the story to make a different choice. Early impressions have been rolling-in in a discussion thread.
The video/audio production is of high quality, but some of the early criticisms of the game is understandably related to the simple multiple-choice gameplay.
App Store Link: Hysteria Project, $1.99