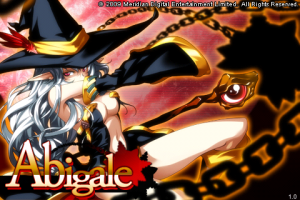 Once upon a time, in the Kingdom of Cega there was a princess called Abigale.  Not only did she possess a beautiful appearance, she also had the kindest heart.  As heiress to the King, at age 19 she was sent to a far-away island preparatory school and during her absence the evil Pope of Cega brought siege and overtook the kingdom.  Abigale was sent to the Dark Forest for her protection from the Pope, who sought to destroy her.  Wanting to avenge her people, Abigale made a pact with the Dark God and traded all her "love" for the holy weapon Mosa which absorbs enemy fire.
Such is the backstory of Japanese mobile developer Meridian's Abigale [App Store], a 2D side-scrolling shooter for the iPhone and iPod touch.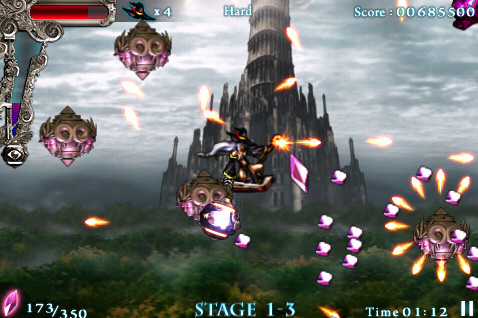 Abigale features attractive, parallax scrolling forest backdrops and very smooth onscreen animation across 15 levels.  It's an accelerometer-based game (lacking a calibration feature, unfortunately) with tight controls that delivers a challenging shooter experience.  Abigale is reminsicent of a number of Japanese shooters where dodging (and in this case, also absorbing) enemy fire is the main task at hand.
Abigale's enchanted Mosa is connected to her craft by a spring and spins freely, driven by the tilt motion of the iPhone.  When the Mosa contacts enemy fire, it absorbs it, becomes empowered and, with a tap to the screen, begins spinning violently.  A second tap sends the Mosa flying to the tap location, inflicting far more damage to enemies than does Abigale's craft's auto-fire, often destroying the enemy in one strike and releasing the precious crystal shards that Abigale so desperately seeks.
In my limited time with the game, I found the early levels somewhat repetitive, but the presentation and overall game performance are impressive. It's worth noting that the game seems particularly well suited to the iPhone's control system, which can be rare in shooters. At its $0.99 introductory price (it will increase to $2.99 shortly), Abigale is really a no-brainer for the scrolling shooter fan.
See our gameplay video for a better idea of what Abigale is all about.

[ Full HD version | Low Bandwidth version ]
App Store Link: Abigale, $0.99 (introductory price)