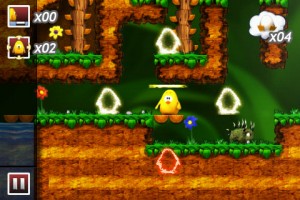 Mobile publisher Chillingo announced this evening that they will be working with Two Tribes to bring Toki Tori to the iPhone platform.
We previewed an early build of Toki Tori back in February.
The game is a platform puzzler in which you (Toki Tori) must navigate levels in order to rescue all the eggs. Special tools are provided that can (and must) be used to solve each level. Tools can help Toki Tori move around obstacles (telewarp, bridge) or weapons to thwart enemies. The tools only have a limited number of uses so you must use them wisely.
This video is from a preview build:

[ Full HD version | Low Bandwidth version ]
The developers have indicated they are still tweaking the control systems for the game. The game was originally set for a 1st Quarter 2009 release.