Last week Glu released Build-a-Lot [App Store], a port of a PC casual strategy game that takes place in the high stakes world of real estate development. The iPhone version comes packed with improved graphics and animations, as well as an interface optimized for touch input.  The game features 35 challenges in Career Mode and 8 different neighborhoods to build up in Casual Mode, which should keep most people busy for quite a while.
The meat of Build-a-Lot is in Career Mode and the challenges that the local mayor issues to you at the start of each level. The first few objectives seamlessly serve as a tutorial for how to play the game where you learn about buying and selling property as well as building and upgrading houses. Moving on, the game introduces the player to the various special buildings like banks and workshops. These different buildings offer small sets of perks — banks allow you to earn interest on your money while the workshop allows you to train workers at a reduced price. These different building tools all go together to meet timed objectives such as "Reach $25,000 Monthly Income", "Own 4 Tudor Houses", etc. Casual Mode takes the same game play mechanics and removes objectives and timers in favor of a simple target dollar amount to accumulate.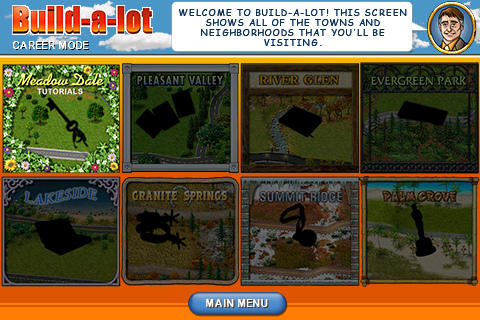 The strategy of Build-a-lot comes in how you manage your time and resources while meeting the goals in either Career or Casual Mode. Houses and buildings are constructed with workers and materials with each structure requiring a different amount of each. The Rambler, for instance, is the least expensive house to build and requires the time of 1 worker and 75 building materials. When completed, a Rambler will earn you $750 a month in rent and be worth $50,000 when resold. To maximize your monthly profits, houses need to be upgraded.
Another vital part of the game is buying houses and lots which periodically go up for sale to then decide to either upgrade the existing house or demolish it and build a higher-level structure. Properties only stay on the market for a brief period of time, so if you're trying to earn a gold star for a level you may be forced in to buying and demolishing an expensive house instead of waiting for a Rambler or open lot to go on the market.  Also, building materials are cheaper when bought in bulk which adds yet another complexity to the mix in deciding to hold out to get more for your money or just building now to start collecting rent.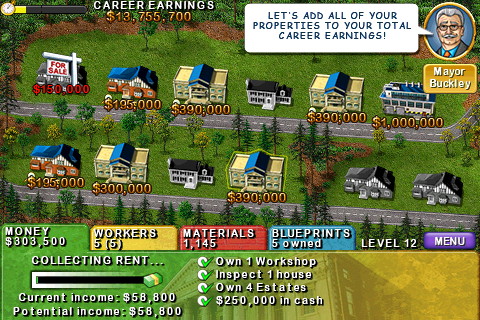 In Career Mode, balancing your work force and materials stockpile, along with deciding whether to build cheaper houses early to get a revenue stream started or to just hold out for houses which yield higher rent income can get surprisingly frantic for such a simple game. Each level comes with a time limit and a secondary time goal which you can meet to earn a gold star, a task easier said than done once you get beyond the tutorial levels.
Overall, I've really enjoyed this game. When I was first read about it, I admit I wasn't that interested since managing only two types of resources seemed rather simple compared to many other simulation games. (And really, Career Mode is pretty easy if you're not going for gold stars.) Trying to meet the secondary time goals, however, will have you replaying levels, refining your strategy, crossing your fingers that something cheap goes up for sale, and hoping you can get your houses in need of repair fixed before rent gets collected.
I never would have expected a simple game based around renting and flipping houses could be as hectic as a good tower defense game, and although Build-a-Lot has questionable replay value once you beat the 35 included levels, it's great fun the first time through. If you're looking for a unique time management simulation game, we recommend giving Build-a-Lot a try.
There's no lite version currently, however there are demos available for both the PC and Mac versions of the game that will give you an idea of what you're getting yourself into.
This gameplay video shows some of the mechanics of the game, and this discussion thread shows a positive reaction to the game by our forum members.
Game Details

Name:

Build-a-Lot (v1.0)

Price:

$4.99 [Buy]

Developer:

Glu


Size:

15.0 MB

Device:

Tested on iPhone 3G
Build-a-Lot exceeded our expectations. What appears to be a simple time management game actually is a fairly intense strategy game based around buying, developing, and selling houses.