Oldshool Mac gamers will likely remember a shortlist of classics that provided real entertainment betweens sessions of MacWrite, MacPaint, and other more "productive" titles.  Crystal Quest, Glider, and Dark Castle are on the list.  Another such title surely worth mentioning is the simple classic Stunt Copter.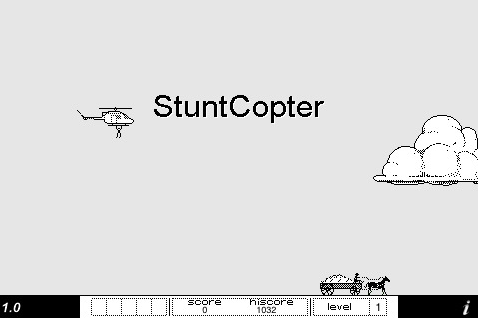 StuntCopter is a rather basic game where the player controls an onscreen helicopter with the objective of dropping little men into a moving horse-drawn, hay-filled cart.  The higher the helicopter, the more points per successful drop.  Kill all your men, the driver, or the horse and it's game over.
Nerdgames has just released an accelerometer-controlled iPhone version [link] of this simple Mac classic through the App Store.  The company has the following to say about the title.
All classic Mac users will remember StuntCopter – the game where you drop an endless supply of flailing little men from a perfectly good helicopter into a horse-drawn cart. Does he fall or is he pushed? That's not for us to decide. All we know is you'll love the challenge of StuntCopter; the addictive gameplay will keep you coming back for more.
The developer indicates that, while the graphics and sound have been pulled directly from the original, the actual game code has been completely rewritten for the iPhone.  As the iPhone version looks and plays like an '80s game, StuntCopter may have limited appeal to those without a special place in their heart for the 1987 Macintosh original.  Those wanting to try before they buy should have a look at the free Mac OS X adaptation from Antell Software.
Sadly, Duane Blehm, author of the Macintosh original, passed away several years back.  His parents have since released Stunt Copter into the public domain.
App Store Link: StuntCopter, $0.99