iPhone developer Chillingo has announced from GDC that they are currently working with Atman Software to bring a port of the Mac/PC action based 3D side-scroller on rails called io to the iPhone and iPod touch.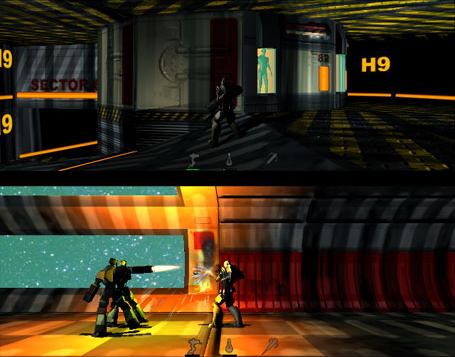 The Nautilus-114, a rather expensive interstellar research spacecraft now lies marooned in the orbit of Jupiter's moon, io. The status of the crew is unknown. In io your mission is to bring the Nautilus-114 spaceship back home. However, the spaceship is infested with many robotic minions that will block your every move. In order to accomplish your mission, you have to play evasively, avoid detection and carry out your objectives.

"This side scroller on rails shooter is a great pick up and play shooter – great iPhone based touch-screen game play with great story line and stunning 3D visuals to match. " says Chris Byatte, co-Founder and Managing Director for Chillingo.
The work of a single developer over the course of five years, the unusual and subdued io has received positive reviews on its original platforms.
Considering the budget io had, it's absolutely gorgeous. Not only does the game mix bright colors with moody lighting – something most blockbusters can't get right – but it looks downright impressive.
See a gameplay video of the Mac/PC original:
Stay tuned for more details as they emerge and a full review once the game goes live in the App Store.