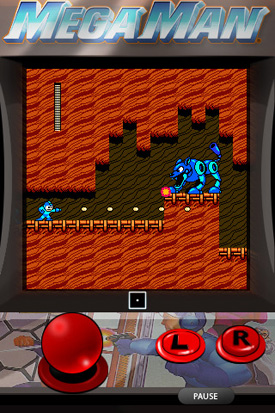 The platform game.  Looking from the present all the way back to the very early days of video gaming, it is perhaps the quintessential video game genre.  And, while thousands of platformers have been written for hundreds of platforms over the years, a few truly exceptional examples stand out from the rest. 
One of those was Capcom's Mega Man II, originally released for the Nintendo Entertainment System (NES) in 1988.  GameSpot called Mega Man II one of "The Greatest Games of All Time."
What really made Mega Man 2 so superb can be summed up in a single word: consistency. To elaborate on that, Mega Man 2 was consistently challenging, inventive, and, most importantly, fun throughout the entire gameplay experience. Every level in the game was a significant improvement over the basic concepts laid in the first Mega Man, each with an impressive array of challenging jumps and tough bad guys that made it a unique experience. All of the boss characters were impressively designed, as were their acquirable weapons–well, except for maybe Bubble Man, but seven out of eight isn't bad at all.
Retro iPhone gamers may be happy to hear that Capcom has released Mega Man II [App Store] for the iPhone and iPod touch.
Mega Man II for the iPhone is pretty close to a direct rendition of the NES original.  The game features the original's simple graphics and 256×256 pixel playfield (with a graphical border and control panel to fill out the rest of the iPhone's screen).  Controls are handled via a virtual onscreen joystick that can be manipulated by touch swipes and two buttons (fire and jump).  The game supports multitouch, so the stick and both buttons can be used at the same time–and using all three at once is often a necessity in this game.
See a video of one NES level for a feel of the action:
The release of Mega Man II for the iPhone and iPod touch is being discussed in a lengthy thread in our forums, however, with disappointing reviews even amongst original MegaMan fans:
The controls are not very well done. The jump isn't right and the joystick controls are to touchy.

The sound was set to off by default. Go to options and you can turn it on. I am very disappointed I love megaman 2 but I hate this sloppy port.

I just beat 2 levels and it seems easier than the original. The bosses seem to have very little health. The controls still don't feel very natural.
App Store Link: Mega Man II, $4.99