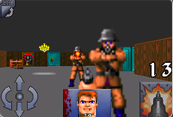 Id Software published a lengthy letter from John Carmack who describes the development of the iPhone version of Wolfenstein 3D Classic. This classic first person shooter has been submitted to the App Store with the source code released to the public.
Wolfenstein 3D was first released in 1992 for the PC and was massive success and was the precursor to modern first person shooters.
Id's site describes the iPhone version:
Wolfenstein 3D Classic is non-stop action and all of the memorable enemies are there for you to conquer from Hans Grosse to MechaHitler!
Includes all six original episodes with 60 classic levels and unforgettable weapons like the brutal chain gun
Choose clever new touch controls or drive with the tilt controls to halt the diabolical Nazi schemes.
Carmack's development log about the title is quite interesting, especially to iPhone developers. He also reports that Classic Doom will be coming soon.
There seems some confusion on the final pricing of the app, though by our read, we feel id will be charging for the application. Due to the GPL licensing, the source code, however, is free to download, compile and even re-release into the App Store. This may certainly spawn a number of Wolfenstein 3D derivative products.
Wolfenstein 3D Classic is not yet available for the App Store.