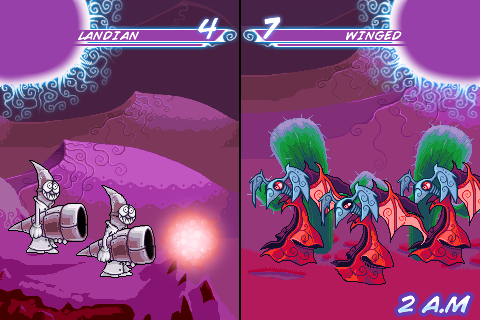 Luc Bernard of Oyaji Games sent us these exclusive screenshots of their upcoming Mecho Wars for the iPhone. We previously covered this indie game that is said to be a direct prequel to the PC game Eternity's Child.
Mecho Wars tells the story of the war between the mechanical Landians and the Winged, which left protagonist Angel as one of the last of his kind in Eternity's Child. Inspired by Advance Wars and Fire Emblem, among other things, it looks to be exactly the sort of tactical strategy game that could be perfect for the iPhone format. The game contains nine different units on both sides of the conflict, with three gameplay modes – Campaign, Tutorial, and Challenge.
Oyaji games is also hosting a live session starting at 2 p.m. ET at http://seanbeeson.com/live.html where you can watch Sean Beeson write music for the game with Luc Bernard also available in the web chat to answer questions about the game. It's starting now, so check out this unique opportunity.