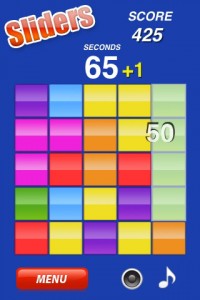 Gnizama has released their first iPhone game into the App Store today called Sliders [App Store]. While this $1.99 game is yet-another Match 3 game, it more closely resembles Rubic's Cube or Imangi rather than Bejeweled.
You slide rows and columns of blocks with your finger to line up blocks of the same color. When a match is made, the blocks implode and new ones drop in from the top to take their place.
The game allows you to slide rows or columns of blocks in order to make matches. Blocks wrap around the edges of the board. Aside from 3, 4 or 5 in-a-row matches, there are also special shapes that can be made for extra bonus points. These special matches include crosses, plus signs, T shapes, brackets or double-wide rows.
The gameplay is simple to start but seems to offer a significant margin for improving your skills over time. The game can be played in either Timed (120 seconds) or Strategy (50 moves). We spent some time with the game and feel that spacial/puzzle gamers will really enjoy it.
The developer's video gives a good picture of gameplay. We started it 41 seconds so you can see the actual gameplay. Rewind, if you want to see the app launch and help screens.
App Store Link: Sliders, $1.99