Since we first got word back in January of Nitako's upcoming platformer Rasta Monkey, we've been keeping a close eye on the title.  The fast-paced, innovative gameplay seen in Nitako's demo videos has had our readers anxiously awaiting the game's release.  Well, the wait is over.  Rasta Monkey [link] is now available in the App Store.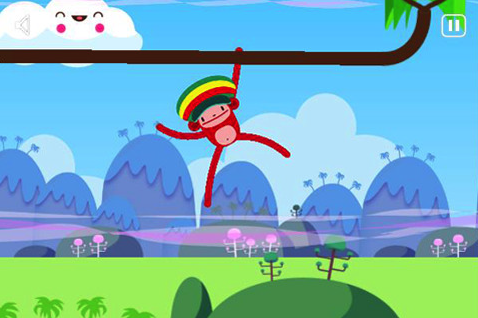 As described by the developer,
Rasta Monkey is by far the best Iphone 2D action platformer out there. With perfect physics based gameplay that you will love. You play an extraordinarily happy Rastafarian monkey. One day, Your old father asks you to help the family out: "You need to collect dem fruits for mi special fruit-shake before mi head go CHAKA CHAKA!…"

You must swing around and grab onto branches, using your awesome monkey skills to snag some delicious fruit. Now go on, make your madda proud! The fun physics gameplay in Rasta Monkey is truly awesome! everything you do in this game, including moving, jumping, climbing, swinging on ropes, fighting monsters and more, is based on the manipulation of gravity and other forces of nature. Together with the addictive original dub music and kawaii graphics, it will be very hard to stop playing..
Nitako's latest demo video gives a feel for the monkey business:
We'll soon be taking a much closer look at this one.  Stay tuned.
App Store Link: Rasta Monkey, $1.99