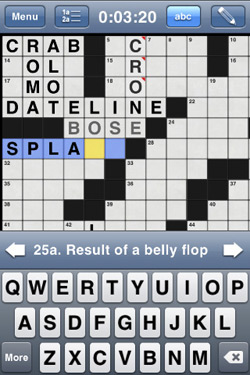 iPhone-toting crossword addicts now have a new way to feed their addiction.  The official New York Times crossword puzzle game, The New York Times Crosswords Daily 2009 [App Store], has appeared in the App Store.
Developed my Magmic Games, New York Times Crosswords for the iPhone is a port of the developer's mobile version.  And while the mobile version is a subscription-based game ($2.99 per month), the iPhone version at $9.99 provides access to all daily (and archived) crossword puzzles published in the print newspaper through the end of 2009, making it a better value than the mobile version for avid crossword fans.
Features listed by the developer:
Play the daily puzzle from the New York Times newspaper.
Play over 4,000 classic puzzles from the New York Times archive.
Send messages and compare your solve times with friends online.
Compete against top players via the online leaderboards.
Listen to the in-game soundtrack or your favorite tunes from your iPod.
Write in 'pen' or 'pencil'.
Solve puzzles on the grid or directly from the clues list.
Automatic highlighting of related clues.
Check or reveal letters, words or the entire puzzle.
Check out the front page of today's paper.
App Store Link: The New York Times Crosswords Daily 2009, $9.99