Here are two similarly played puzzle games that have Lite versions to try in the App Store.
Battletaire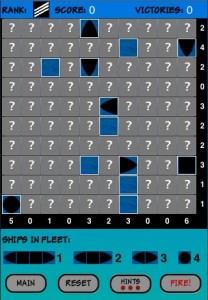 Desired Logic has released a version of Battleship Solitaire into the App Store under the name Battletaire [App Store]. The $1.99 puzzle game is a bit of a merger of Battleship with Sudoku.
The game is based on the popular Battleship game and requires you to find out where the enemy ships are. Rather than firing on them, however, you must use the given information to deduce their locations. From Wikipedia:
The basic solving strategy for a Battleship puzzle is to add segments to incomplete ships where appropriate, draw water in squares that are known not to contain a ship segment, and to complete ships in a row or column whose number is the same as the number of unsolved squares in that row or column, respectively. More advanced strategies include looking for places where the largest ship that has not yet been located can fit into the grid, and looking for rows and columns that are almost complete and determining if there is only one way to complete them.
The basic game is quite fun and can be challenging, though this particular implementation could be more polished and the grid squares can be a little small. A free lite version, however, allows you to try it out before you buy.
App Store Links: Battletaire Lite, Free, Battletaire, $1.99
Jabeh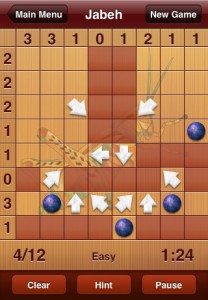 Meanwhile, Arash Payan released a fun and very polished version of Shinro to the App Store back in January that we've been meaning to cover. Again, this game involves finding hidden items by piecing together the information given.
Instead of ships, however, you are looking for 12 hidden stones in each board. Special arrows point in the direction of a stone. They could be anywhere beyond the tip of the arrows. Combining this information with the given number of stones per row allows you to determine where each stone is hidden.
The game has been a particular favorite amongst our forum members and offers a excellent level of polish and style.
This is demonstrated in the developer's gameplay video:
The developer also offers a Lite version to try the game before you buy.
App Store Link: Jabeh Lite, Free, Jabeh, $4.99