EA has released more screenshots and details about their upcoming Tiger Woods title. The describe a precise "touch-n-drag" swing meter as well as voice-over commentary and detailed camera angles. A full list of features include:
Play as or against Tiger Woods and other professional golfers such as Annika Sorenstam, Vijay Singh, and Retief Goosen
Experience realistic courses with detailed 3D graphics including Pebble Beach, St. Andrews, and TPC Sawgrass
Master the highly tuned "touch-n-drag" swing meter with visual feedback to achieve the perfect swing
Swipe the screen to affect your Ball Spin direction as the ball is flying through the air
Complete achievements and earn official "Bragging Rights" that you can flaunt to your friends!
Listen to play-by-play commentary by Sam Torrance & Kelly Tilghman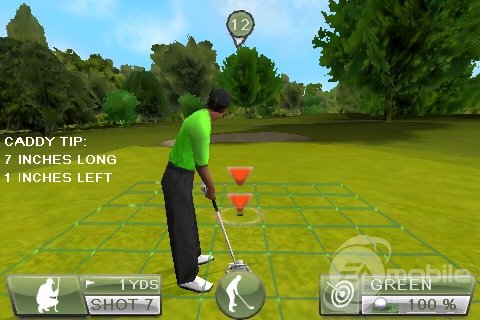 Earlier screenshots were posted in February. The title was said to be "a few months off" at that time.
MacLife actually got some hands on time with the current pre-release build of Tiger Woods.
They were impressed by the smooth graphics that took "on big depth when the camera flies through the 3D scenes." Game mechanics were also said to be good:
The developers have been testing many swing methods, including motion-based controls, but they've settled on a simple swipe gesture. I got into the game quickly, sliding my finger back and then forward to hit. When the ball was in the air, I slid my finger across the screen quickly to add spin, Golden Tee-style.
EA is said to still be considering multiplayer options across multiple iPhones, and admits the game is still "a couple months out".